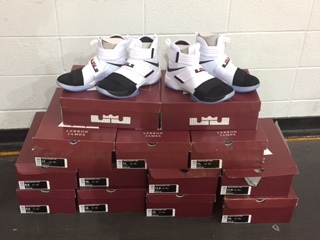 Varsity Boys Basketball and LeBron James
Michale Hall
Our Varsity Boys Basketball Team received a little surprise yesterday from Nike Basketball and LeBron James. Back in August I interviewed with a person from Nike about our team and then forgot about it thinking not much was going to come of it. Then yesterday we received a box full of shoes, shirts, and a personalized note for our team.
LeBron filmed this video especially for high school teams that won state titles last season. https://www.hightail.com/download/cUJYYUlrMVg1UjdSc01UQw This week 120 of those teams received these packages. Our guys were pretty fired up about it. These are the new "Come Out of Nowhere" t shirts inspired by Nike's new marketing campaign featuring LBJ https://www.youtube.com/watch?v=dOZxIpy6Gm4 It was a pretty fun day to be a Baptist Prep Eagle.
Since then things have grown a little bit with our video(http://www.espn.com/video/clip?id=18161502) getting posted to espn.com and tweeted by sportscenter. Pretty cool experience for our players! James Renshaw was contacted by a person at ESPN last night requesting permission to use his tweet on all of their platforms so it was on Sportscenter this morning as well. My tweet for the team yesterday has been viewed 700,000 times in the last 24 hours.
We are thankful for the generosity of Nike Basketball and LeBron James for this program in which they are reaching out to high school teams. You can catch interviews of our players on KTHV (CBS) at 5 & 6 tonight or KATV (ABC) at 5 & 10.
For those of you who haven't been able to see our team yet, we are off to a 6-0 start after defeating Episcopal (ranked #3 in 3A) and LR Christian last week.
Home game tonight against Lonoke! Games start at 5:00 with our JV Boys, followed by the Varsity Girls at approximately 6:00 and the Varsity Boys will start around 7:30.
Our next 3 games are at home (Nov 29 Lonoke, Dec 2 eStem, Dec 6 Bauxite) against 3 conference opponents. Hopefully you all can fill up the gym and give us a great home court advantage!! See you there.
Go Eagles!!
Coach Ross