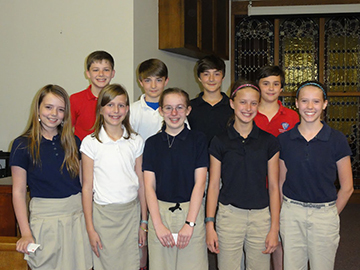 6th Grade Students Compete in Annual Geography Bowl
Rachel Bennett
Each year, 6th grade history students, under the direction of Miss Sharon Pegg, spend a portion of the second semester preparing for the Geography Bowl. The Geography Bowl covers a variety of topics including mountains, deserts and water; cities of the world; people of the world; and world records.
On Wednesday, May 11th, the finals of the Geography Bowl were held.
With a score of 1,145, the team led by team captain Addison Southerland won the championship. Team players included Megan Lavender, Luke Graham, Jenna Johnson, Garrett Tripcony, Caden Jennings, Logan Bevans, Harmony Toth and Blair Yager.
The runners-up, led by team captain Logan Warren, finished with a score of 850. Team players included Jackson Mullen, Kendall Sorrows, Piper Warren, Kathryn Ward, Olivia Minton, Tripp Maris, Taylor Bornds and Jeff Brown.
Congratulations to all the participants!