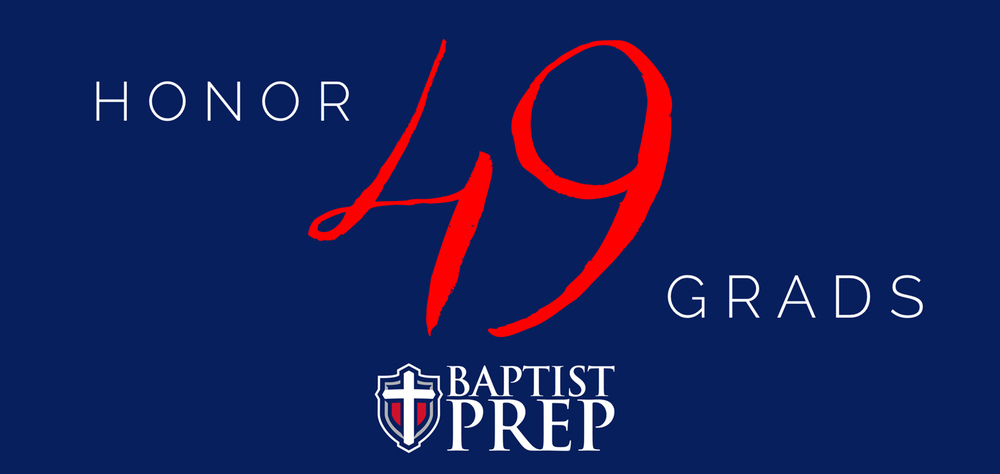 49 seniors recognized with academic Honors
Baptist Prep
Forty-nine Baptist Prep seniors are graduating with Honors. Baptist Prep recognizes seniors who have maintained high academic standards throughout their high school career by presenting Honor Cords and Stoles to be worn at graduation.
To become a Student of Distinction, students must maintain a cumulative GPA of 3.7. They also must demonstrate their seriousness of purpose by taking at least nine higher-level high school courses including Advanced Placement, Concurrent College Credit and Honors courses. Students receive a white cord for this achievement.
Students graduating with Honors have maintained a 3.7 cumulative GPA throughout their high school career. Students will receive a gold stole for this achievement.

Students will also receive a stole for membership in the following organizations:
The National Honor Society is open to seniors who have maintained a minimum GPA of 3.85, and have demonstrated leadership, character and community service. Twenty-nine students received this high honor.
Mu Alpha Theta is a National Math Honor Society created to promote and recognize scholarship and interest in the field of mathematics. Students must have a grade point average of at least 3.5 in college preparatory mathematics and at least a 3.0 overall grade point average.
The National Beta Club is for students who have maintained an overall GPA of 3.25 and have shown themselves to have a commendable attitude, good character and responsibility.