Announcing Eagle Fest 2016
Tom Hall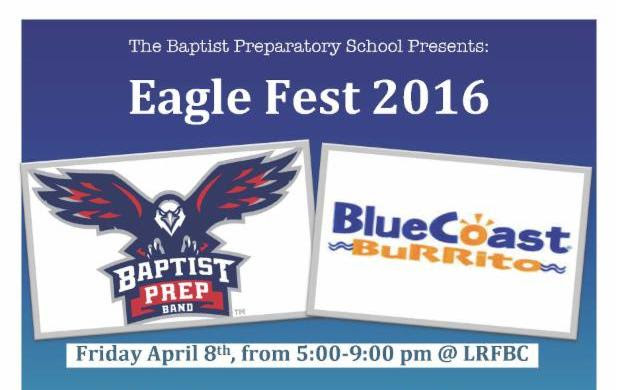 Don't miss Eagle Fest 2016 on Friday April 8th from 5:00 - 9:00 pm at First Baptist Little Rock! Come enjoy a Baptist Prep Ensembles concert and a very special performance by the Baptist Prep Band. Dinner will be catered by Blue Coast Burrito. You can bid in the silent auction and enter the drawing for a $500 tuition credit.
A message from Mrs. Lindsey Leggitt about the Baptist Prep Band performance at Eagle Fest:
Most of the band students in this year's senior class have been involved in band pretty much from its very beginning stages and have helped mold it into what it has become. The Baptist Prep Band has commissioned a new piece of music to honor our senior band students and their dedication to this school and the band. The piece is called "A Life that is True" and it was arranged by composer Randall Standridge.
This piece opens with a simple statement of our Alma Mater played only by the seniors and then builds into a glorious arrangement of the hymn "Tis so Sweet to trust in Jesus". I chose this hymn because I feel it reflects what our school is about. At Baptist Prep, we want to teach our students to trust in Jesus and we strive to provide an atmosphere where students can do that. But, most of the students (at least this year) are leaving our private Christian school to go to State Universities. They will no doubt face new challenges as they make the transition to adulthood. So the last line of the hymn "Oh for grace to trust Him more" states our prayer for the seniors as they go on to the next phase in their lives.
We will debut our new piece at Eagle Fest on April 8th and I hope it will be a fitting send off for this awesome group! It is my hope to continue to perform this piece every year with the seniors playing the solo each year.
Eagle Fest is here! Fill out the registration form and get it to the school office today!
Download Eagle Fest Registration Form