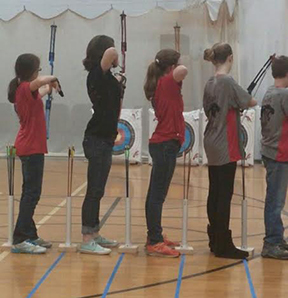 Baptist Prep Archers Win Big at Local Tournament
Rachel Bennett
Baptist Prep's Archery Team competed on Saturday, February 20th, in the Southwest Christian Academy Archery Tournament. The tournament included archers from area private and public schools.
The team, coached by Tim Pruitt, competed in the elementary, middle school and senior high divisions. Fifth grader Shauna Smith won 1st place in the elementary division as well as a Bullseye Award. Eighth grader Lexi Phelps won 1st place in the middle school division, and seventh grader Lauren Luther won 3rd place in the same division. Both girls also received the Bullseye Award.
Congratulations to all of our archers!!