Jadyn Howard Future Agent in Training
Michale Hall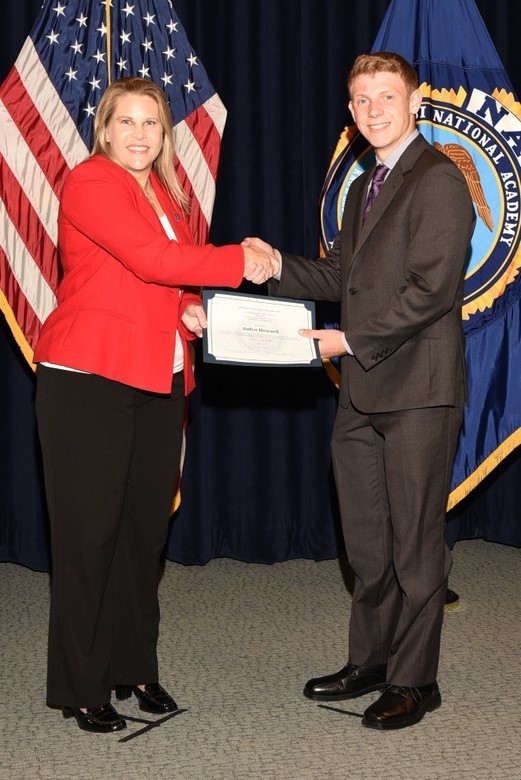 Jadyn Howard, junior at Baptist Prep, was selected by the Arkansas Chapter of the FBI National Academy to be Arkansas' delegate to the Session 19 of the FBI Youth Leadership Program. Jadyn and delegates from other state and international chapters spent 8 days at the FBI Academy in Quantico, VA, learning from FBI Agents, National Academy Associates, and leaders in business and finance about various aspects of leadership in life. In addition to classroom lecture, delegates had to prove themselves physically through physical training, culminating in the Yellow Brick Road obstacle run. Delegates spent one day touring Washington DC.

The FBI Youth Leadership Program is for 14-16 year olds. To be selected as a delegate, students must have a letter of recommendation from a member of the FBI National Academy, submit a copy of high school transcript with an accompanying letter of recommendation from the school, complete an application, write essay on "What Leadership Means to Me", and be interviewed by the local FBINAA chapter. Jadyn also had a letter of recommendation from former FBI Agent Steve Crutchfield. Once selected, delegate and family went through a federal vetting process before the official acceptance was sent by the federal FBI National Academy office.
A service project is required for participation in the YLP. Each delegate presented their project to the group. For his service project, Jadyn is honoring first responders at a Baptist Prep Varsity Football home game. More information on this will be presented at a later date.
While at the YLP, Jadyn made many friends throughout the United States, Europe, and South America. He received a certificate of completion for graduating from the program and a yellow brick for successfully completing the Yellow Brick Road obstacle run. Jadyn was selected to sing The National Anthem at the graduation ceremony.
Earlier during the school year, Jadyn attended the FBI Future Agent in Training at the FBI Regional Office in Fort Smith, AR.
At this time, Jadyn plans to join the Arkansas State Police after graduating from college, with the intention of pursuing a career in federal law enforcement in the US Marshal Service. Jadyn is pictured receiving his FBI National Academy Youth Leadership Program Certificate of Completion from his session leader, Amy Bonney, Deputy Chief of Police from Prescott, Arizona.