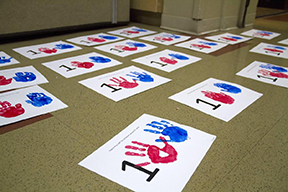 Kindergarten Students Celebrate the 100th Day of School
Rachel Bennett
Kindergarten celebrated the 100th Day of School on Wednesday, January 27th. Students came to school dressed in t-shirts of their own creation that had 100 items attached to it.
They spent the morning divided into groups and rotating through 5 different centers. They spent time learning about the parable of the 99 sheep, playing hide and seek with numbers, math sorting with items students brought from home, eating snack and painting hand prints.
The morning ended with the release of 100 balloons.