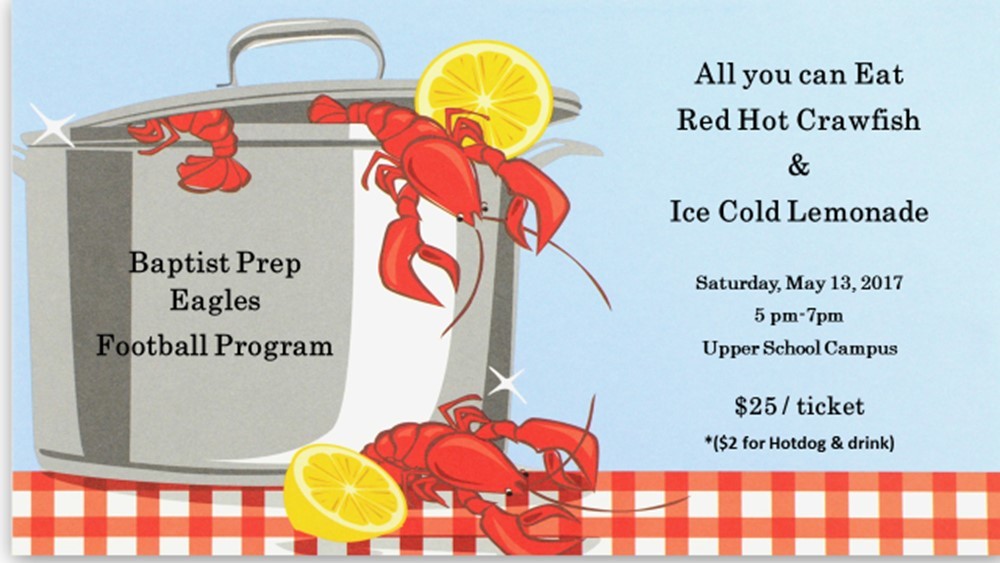 Baptist Prep Football Program to host Crawfish Boil
Rachel Bennett
Please join us in supporting our Baptist Prep Eagles football program at the all you can eat Crawfish Boil Saturday, May 13, 5-7pm.
All proceeds from ticket sales will go to the football program to purchase SpeedFlex helmets ($439/helmet) and other safety equipment, Hudl Sideline(Instant Replay), pylons and yardage markers and replacement lights for the scoreboard just to name a few.
This is a Baptist Prep family and friends event. Your support will help provide our coaches and student athletes the equipment needed for a safe, successful program.
Tents will be set up on the practice field, so bring a lawn chair and stay awhile. Tickets can be purchased from any football player or by clicking here. If you don't eat crawfish, please consider donating. No amount is too big or too small. Unused tickets will be donated to our teachers.