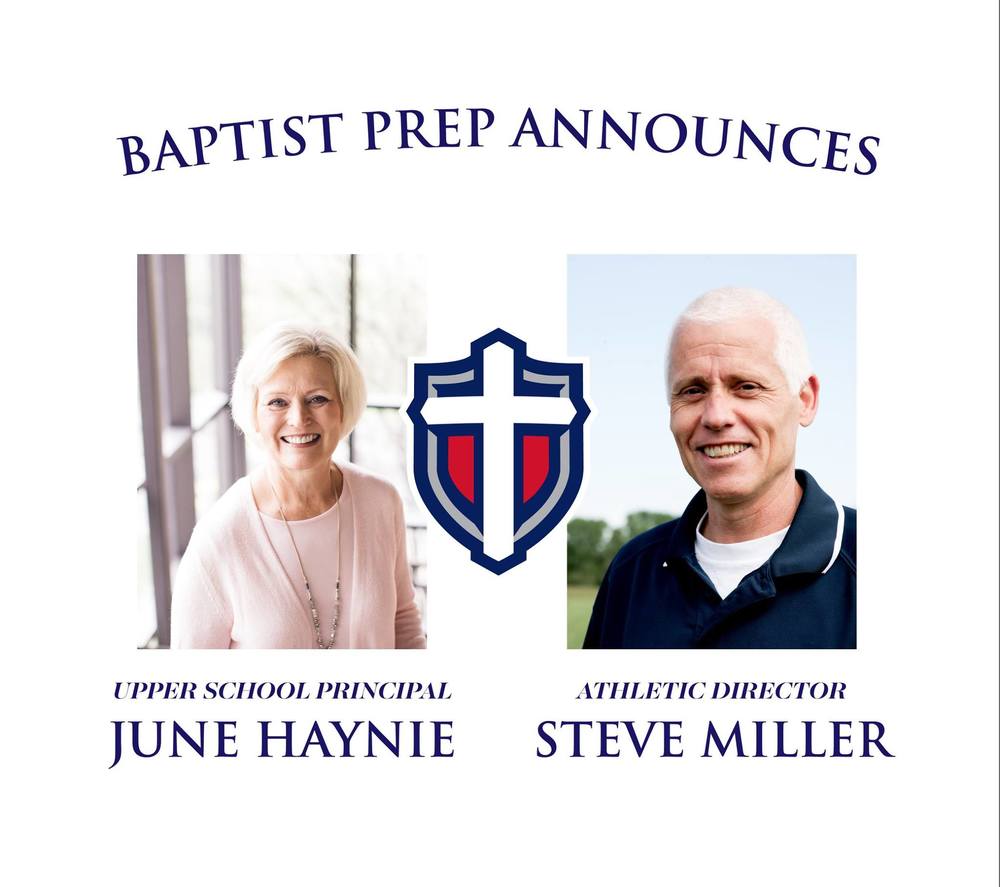 Exciting Baptist Prep News
Michale Hall
Dear Baptist Prep Family,

The 2017-18 school year will begin with new leaders and new faces in our school. We are pleased to share the following:

Coach Steve Miller will return to the Upper School as athletic director and will also serve in an assistant head of schools capacity. Mr. Miller served as the basketball coach and athletic director at Baptist Prep for 15 years. He led the Eagles to three state championship titles. In 2008, he and his family moved to Wichita, Kansas where he has served as the athletic director at Trinity Academy.

Coach Miller recalls his time at Baptist Prep as a tremendous experience and looks forward to coming "home." He is quick to say he knows a little bit about coaching and a lot about life and wants to bring that to the athletic program. Coach Miller is excited to work with our student athletes and mentor our coaching staff. He is especially looking forward to working with Coach Brian Ross, as he was a student of his.

Current Athletic Director, Coach Billy Goss, has chosen to lead in a new and exciting role. This new role deals with the expansion of our missions program. We will be sharing more about this very soon!

Joining the staff at the Upper School is Principal June Haynie. Mrs. Haynie is a veteran educator who values educational excellence, character, and service. She was a teacher at Robinson High School in the Pulaski County Special School District for 23 years. She served as assistant principal at Sylvan Hills and North Pulaski high schools and as director of secondary education for the North Little Rock School District before returning to Robinson to serve as principal. She later assisted at the state level in the Scholastic Audit Division of the Arkansas Department of Education.

In my association with Mrs. Haynie both at the district level and the state level, I've known her to be a leader with an eye on building a strong relationship as the foundation for success. When that connected relationship is present, students can achieve amazing things.

Phyllis Stewart will become the Director of Communications and Administrative Services. Mrs. Stewart served many years as chief of staff for Mr. Bobby Lester, longtime superintendent for the Pulaski County Special School District (PCSSD). She has since served as director of communications for the Arkansas Association of Education Administrators; the Arkansas School Boards Association; and chief of staff for former Commissioner of Education Dr. Tom Kimbrell. In 2013, she agreed to join former Commissioner of Education Tony Wood to lead the detachment of territory from PCSSD to form the new Jacksonville North Pulaski School District (JNSPD).

Mrs. Stewart will be working with me in the Head of Schools and Administrative Services Office. Our goal is to streamline many of our services in an effort to better serve our patrons.
These three accomplished professionals come with a wealth of experience and we are thankful they are joining our team July 1.

Thank you for your continued support of Baptist Prep and as always, please feel free to contact me anytime should you have additional questions, concerns, suggestions, etc.



Very sincerely,

Laura Bednar

Dr Laura Bednar
Head of Schools
Baptist Preparatory School
lbednar@baptistprep.org