Baptist Prep Band at Disneyworld
Michale Hall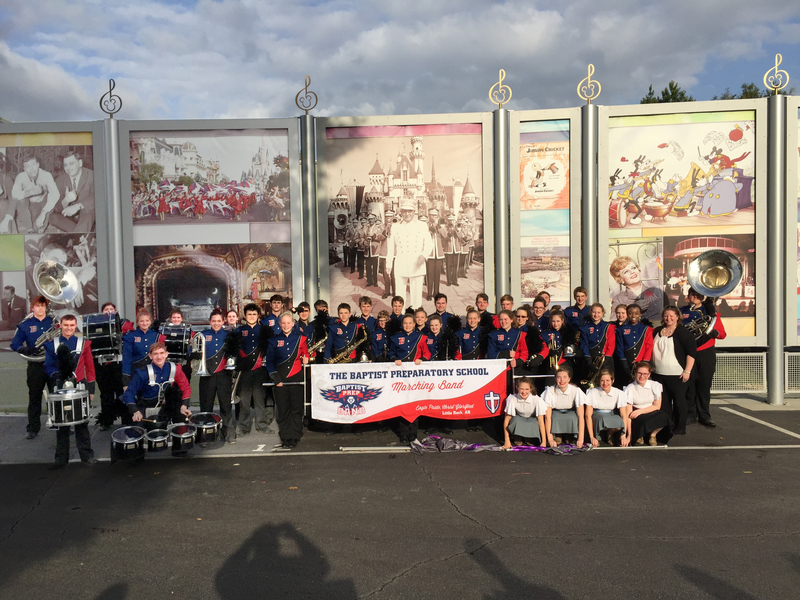 While everyone was out for Spring Break, the Baptist Prep Band was on the road to Orlando! They were accepted into the Disney Performing Arts Program this year and were given the opportunity to do a recording session with one of Disney's musical directors. They had a 2-hour session in which they sight-read and recorded several Disney tunes. After which the tunes were synced up with scenes from the movies with our band as the accompaniment!
The students also were given the opportunity to do a Magic Kingdom parade which was one of the highlights of the trip for most everyone! They performed scenes from the Disney movie "Mary Poppins" as they marched down Main Street, USA and in front of Cinderella's Castle! Many friends and family members from Baptist Prep were there to take pictures and cheer us on but it was even more amazing to see how many strangers were there cheering, filming, and singing along! The crowd was very receptive and the students looked great marching for the first time in their brand new uniforms!
But this trip wasn't all work... these excellent opportunities along with 4 days in the Disney World parks made for a very exciting trip! "I'm so glad I got to share this opportunity with these outstanding students" said Mrs. Leggitt, the Baptist Prep band director. "It is something we will all remember forever!"