South Dakota Mission Trip
Michale Hall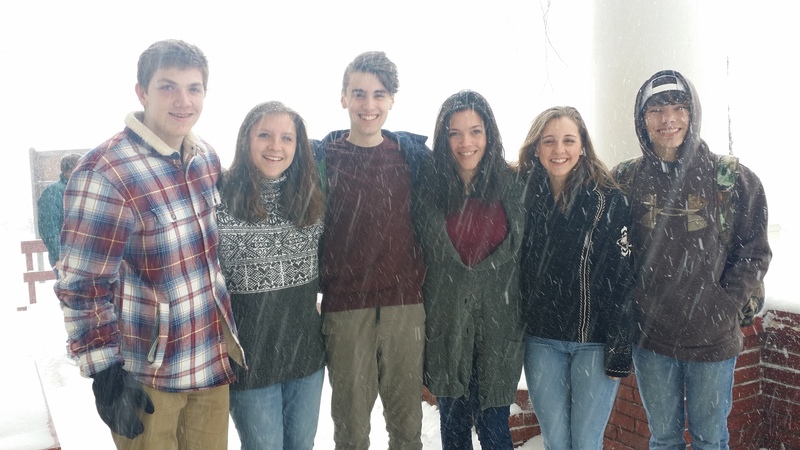 Update from Julie Cameron about the South Dakota Team.
We left Little Rock in rain and drove through snow in Missouri we finally arriving in Flandreau, SD after 15 hours on the road. Bill (chaplain at the Indian school) and his family were waiting for us at the Pulscher's when we arrived. We had a good night's sleep at the Pulscher's, where we've stayed for the last 3 years during missions week. As it started snowing Sunday we arrived at the Rescue Church where pastor John preached a sermon "How to Get Friends" emphasizing what we need to do as believers to be good friends: initiate friendship, love our friends according to 1 Cor. 13:4 - 7 and confront our friends with the Truth in love. It was a great message that spoke to each of us in a different way. After church the Pulscher's Sunday school class provided lunch for us and the FIS (Flandreau Indian School) students, and while we were waiting for lunch we played name games and other games to get to know each other. During lunch the snow continued to fall, and by the time we finished eating the snow was several inches deep. Sunday afternoon our team met Scuba who made a decision to accept Jesus as Lord and Savior last summer at camp, and he gave his testimony and shared about how he is continuing to struggle in his walk with Christ. Scuba and his siblings were orphaned very young. They lived at times with various family members and lived rough when there was no family to live with. By the time he was 16 he had been in the hospital several times after being stabbed and shot and attempting suicide. After being on fire at the beginning of the school year, the loss of his aunt and grandmother during the last 6 months have been a struggle for him as he has returned to his reservation and been drawn back into his past life.
After dinner in the school cafeteria, Gaylynn and Tucker shared testimonies of how they have had to trust in God in times when they didn't understand and couldn't see how he was working.
Today we've been learning about Native American culture: The retired school nurse came to share he story of growing up as a Native in this area and we began watching the Dakota 38 video which chronicles the ride that the group of natives take every year to remember the event and to promote forgiveness between natives and non-natives. We also had a campus tour during which we prayed for the students on campus and met with the principle. Now we are preparing for the afternoon activity: painting flower pots and planting seeds. Tonight we will have Bible study with a small group of students.
Thank you for your continued prayers for safety for our team and for our interactions with the students and staff here at FIS!!